By Mark Barnes, Chevronlubricants.com
(June 20, 2022) — Are you losing the battle on extending equipment life? Are you changing your oil too often or having machine failures? Most companies are now realizing that maintaining clean oil is one of the best investments they can make, with contamination at the core of premature machinery failure and diminished lubricant life. However, many companies do not know where to start in preventing contamination or how to build the business case to get budgetary approval.Purchasing clean oil, such as ISOCLEAN® lubricant, is a great start. Equally important is keeping the oil clean while in use, since contamination often remains an overlooked factor behind premature machinery failure and diminished lubricant life. The ever-increasing cost of oil brings a heightened awareness of the need to minimize usage and waste, as well as a desire to prolong equipment life, making the economic case for protecting oil from contamination — from the time oil enters a facility until it leaves.
The two primary types of contamination are dirt and water. It stands to reason that if the atmosphere is contaminated (and most are to some degree), the oil is probably dirty, and lubricant quality is compromised. Unless you are using ISOCLEAN oils, most lubricants aren't delivered clean. Particulate contamination, once inside an operating system, will accelerate the generation of new contaminants through abrasive and erosive wear. These contaminants damage critical components and act as a catalyst for oxidation, further degrading lubricant health.
If the atmosphere is particularly humid or has frequent temperature fluctuations, the oil is probably moisture-laden and lubricant quality is compromised. Oftentimes, plant wash down activities are responsible for inducing conditions that lead to moisture ingression and corrosion.
The good news is that these factors, which work together to threaten equipment reliability, can be effectively controlled with some preventative maintenance techniques. The best and easiest way to exclude contaminants is to start with clean oil by using ISOCLEAN oils and to keep the oil clean by deploying effective strategies to exclude and remove contaminants at the source.
A multi-faceted program that includes some simple proactive steps will conquer contamination. Oftentimes, starting a lubrication best practices program can feel overwhelming and stressful, but by using the right steps and the right support, the journey from poor lubrication to preferred practices can become a successful venture. Without careful planning, it can become an exercise in futility where nothing ever gets done, and nothing ever changes. So how do you make sure your lubrication journey is successful and not a failure?
Figure 1: Three steps to effective contamination control

Today, there's tons of information found online, at training classes and workshops, as well as at conferences. But how do you sift through this plethora of information and make the right choices for your lubrication program? Before a lubrication best practices program can be created it is important to consider the industry and your applications. Every industry and every application are unique, and what's right for someone in one environment isn't what's needed for someone else with a more critical application or different type of equipment with finer tolerances or a plant with different production schedules.
The path you take to reach your destination will depend on your circumstances, budget, and goals. You know where you're starting from and you know the end goal: get the right amount of oil or grease in each machine, while ensuring that the lubricant is kept clean, dry, and cool. It's pretty simple. But how do you get there? Maybe you handle oil in barrels, which means a small portable filter unit capable of mounting on top of the barrel is the best route. For smaller volume transfers, a sealed oil transfer container keeps oil clean while in storage and in use throughout the plant. In addition, a desiccant breather keeps the lubricant clean and dry while in use. It is a matter of selecting the best route to lead you to your goal.
Figure 2: A desiccant breather protecting the  equipment from particle and moisture contamination.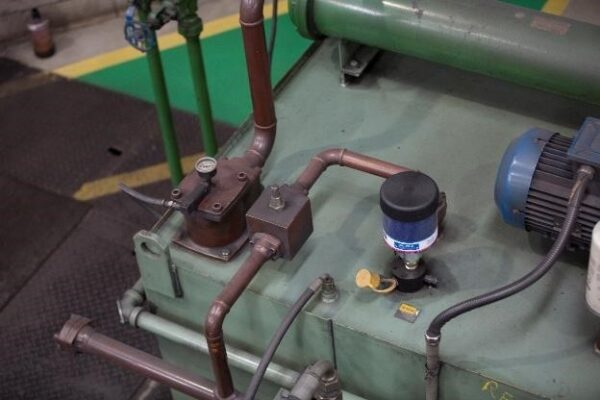 Now you must decide who is actually going to do the lubrication. Do you prefer to have dedicated lubrication techs, general mechanics who also do lubrication, or is your goal to have operators do basic tasks? Each option has pros and cons but this decision is a major "fork in the road" that dictates other decisions down the road.
Once you have chosen the general direction, the choices become even more granular. After you make the "big picture" decisions (bulk vs. barrel, supplier A vs. supplier B, lube tech vs. operator), there's a host of choices still to be made. For example, electric motor lubrication. Do you want to use a simple route-base process, which includes calculating the optimum volume and frequency to re-grease, or do you want to invest in an ultrasonic tool to make the process more rigorous? Both will give you good reliability if you apply the process correctly.
The decisions are endless: Which color should I color code gear oil? What tests should I do for hydraulic fluids? How should I monitor oil level in my process pumps? Will the electricians be responsible for motor lubrication?
The key is you have a path laid out and start to plan the options and preferences ahead of time to avoid going off course. Starting out with a goal to "improve our lubrication program" is not a plan – it's a desire. Instead, each decision point should be mapped so options can be considered, and the right decisions made based on a combination of company goals, plant layout and operating environment.
The need for someone to "own" the plan is equally important. All successful lubrication improvements have a champion – the "voice of reason" – to coach and help steer the team into making the right decisions.
However, even the best laid lubrication plans often  encounter unexpected issues, some harder to negate than others. The benefit of regularly scheduled oil samples warns of impending problems and drives continuous improvement. This can be the difference between a minor speed bump and a total and catastrophic breakdown.
Simple visual inspections can go a long way toward identifying problems before they become problematic. Using an oil level indicator to check oil levels and inspecting the color and clarity of the oil with a sight glass or bottom sediment bowl are great ways to identify potential issues. Other activities such as recording bearing temperatures with a non-contact infra-red pyrometer, looking at the color of the breather and direction of color change can all pinpoint emergent issues. A basic lubrication check sheet like those used by pilots for pre-flight checks are a good idea to make sure everyone is inspecting the lubricants and expecting the same results.
Figure 3: Replacing a flat sight glass with a 3D sight glass is a simple inexpensive modification that can greatly enhance the reliability of oil level checks.

Not every asset or equipment type is the same and thus, your lubrication best practice program will need to account for that. For example, set tighter limits on contaminants and other oil condition parameters to ensure production or safety on critical assets are kept under strict control. Also, an ISO cleanliness code of 19/17/14 and 500 ppm of water might be acceptable for a large, slow-turning gearbox. However, a more critical high-pressure hydraulic system with servo valves will need a much lower ISO code of 15/13/10 or better and no more than 100 ppm of water. Whenever you exceed those limits, you should be checking the breather and other points of ingression or employing supplemental filtration, until oil analysis tells you oil cleanliness is back in compliance.
Precision lubrication is not a destination, it is a journey. If we're always looking for an end point where we intend to stop, complacency often sets in, and we slip back into bad habits. Like other reliability initiatives, precision lubrication is about creating a new culture where continuous improvement is built into everyday discussions.
There should be attention and planning about what kind of lubricants we select, how they will be stored, and how they will get from storage to the machine. From cradle to grave, lubricants will be exposed to contaminants, which must be addressed at source to ensure the oil arrives at its final destination, clean and contamination free.
Equipment life can be greatly extended through proper lubrication management, which effectively starts with breather protection, offline filtration, and oil sampling. In today's competitive market, most companies are now realizing that maintaining clean oil is one of the best investments they can make to reduce premature machinery failure.
By utilizing options outlined above and implementing several contamination control techniques as best practices, maintaining clean, dry lubricants — and gaining the profitability that goes along with it — is easier than ever.
Shrader Tire and Oil proudly carries the Chevron line of heavy-duty and industrial lubricants. Recognized by Chevron as a 1st Source Elite Chevron Lubrication Marketer, Shrader Tire & Oil has attained the highest ranks of performance and customer satisfaction and is committed to the long-term success of your business.