Retread tires are created by removing a worn-out tire tread and applying a new one, without having to deal with the components required to produce new casings. So, what's the benefit to you, and why should they take the place of a new tires? To put it simply, retread tires are cheaper, of equal quality and performance, safe, environmentally friendly, and built to last.
Through the retread process, businesses are able to maintain lower production costs, ultimately leading to a lower price for consumers. Since new casings aren't necessary, all efforts are able to focus solely on the production of new treads. Even though they are cheaper, their fuel efficiency, life span, and overall quality is equal to, if not better than, new tires.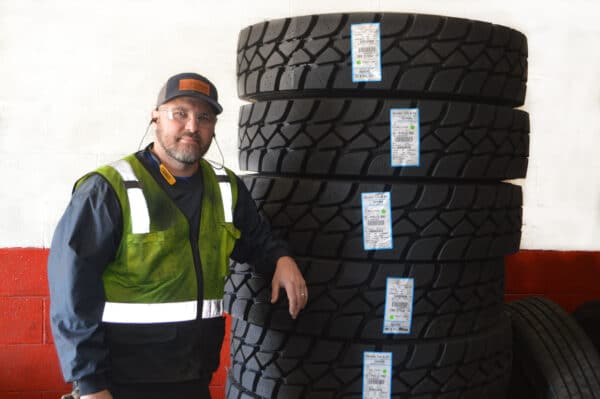 This is where Shrader Tire & Oil can step in. We are the solution to your retread tire needs. As a certified Michelin MRT Retreader, Shrader Tire & Oil recently earned the highest audit scores in the industry. With our nine-step manufacturing process, we ensure efficient and quality results. Our retreads are held to the highest standard and are inspected thoroughly – both digitally and by hand. To support our claims, all of our retreads are backed by a warranty.
Although the myths about retreading may seem alarming, according to the Managing Director of the Tire Retread & Repair Information Bureau (TRIB), studies indicate that retread tires are just as reliable and safe as new tires. As long as they are properly maintained, exactly like how you would with a new set of tires, they will be just as effective.
As more information is uncovered, the demand for retread tires is ever increasing. TRIB states that 89 percent of fleets with 500 trucks or more utilize them. However, it's not only about the large fleets. As the retread process continues to evolve and improve, fleets across the country, both large and small, are recognizing the benefits of retreading. This is especially true for those considered a part of the last mile.
There is no better application for retread tires than when it comes to box trucks, delivery vans, and other light weight trucks. For companies such as UPS and FedEx, they are a necessity. With such high delivery rates, these types of trucks are constantly turning, accelerating, braking, and damaging their wheels. Retread tires are the most cost-effective solution to the high demand of tires in this industry. The bottom line is that retread tires are here to stay – and it's for a good reason.
Contact Shrader Tire & Oil today at 800-859-6589 and ask about our retreads. You will be glad you did!